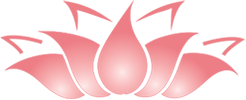 a Brief Overview
of the Organization
Grassroots India, a Section 8 not-for-profit Company, has the following primary objectives as outlined in its Memorandum of Association:
Grassroots India was incorporated as a non-profit Section 8 Company in 2008. Debra Pennington and Dr. Nivedita Das, Ph.D., have served on the executive committee since the company's inception and receive no compensation for their service.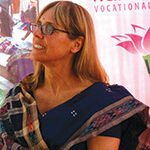 Debra A. Pennington
Debbie Pennington is the founder of Grassroots India and has served on the Executive Committee since its inception. She offers her voluntary services to the company for development, administration, emergency medicine and home healthcare. Debbie owned a moutaineering guide service in the Rocky Mountains for many years and served as an Emergency Medical Technician (EMT) for Moutain Rescue and the local ambulance. Being an entrepreneur she has developed several businesses, including The Golden Key resort marketing business in Aspen, Colorado. She has an extensive media background in print, radio and television, and has managed international press for global initiatives in environmental and child rights causes. Her photo-documentary work of children in difficult circumstances has been featured in the New York Times, various global conferences, UN World Food Program, and the Brookings Institute. She was invited as a delegate to teach "The Role of Media" to leading NGOs from around the world in ECPAT's Agenda 2000 on Child Rights, and managed the international press for the event. Debbie has spent much of her life in spiritual pursuit, through study of scripture, mediatation, pilgramage, and moutain seclusion. On a pilgramage to India, in 1988, she was initiated into the spiritual science of Kriya Yoga. In 2004 she moved to Cuttack, Odisha to stay at her Guru's ashram and offer her expertise in various charitable projects. In 2008 she began the Hariharananda Vocational Training Center and W.I.S.H. Network for marginalized young girls. She divides her time between Cuttack, Odisha and the Rocky Mountains.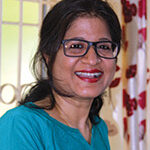 Dr. Nivedita Das
Dr. Nivedita Das, Ph.D., is a clinical psychologist, professional life skills trainer, corporate trainer, and faculty in Human Resources and Organizational Behaviour. She specializes in communication skills, psychometric tests, stress management and soft skills. Nivedita received her post-graduate in clinical psychology from the University of Delhi and Ph.D. From Utkal University, Odisha. She is also a law graduate from Utkal University and a Gold Medallist in psychology at Berhampur University. Nivedita is the recipient of the National and All India Post Graduate Scholarship and has done an Advanced Technology Management Course from NIIT and is a visiting faculty to various Management Institutes teaching MBA, BBA & PMIR students. She served on the Orissa State Social Welfare Board from 2006 – 2009 and on the Grassroots India Executive Committee since 2008. Nivedita is an avid reader with interest in many topics, including spiritualism and parapsychology. She presents research papers in International and National Seminars and has produced several publications, including Empowering Destitute Women, a book inspired by her work with Grassroots India.